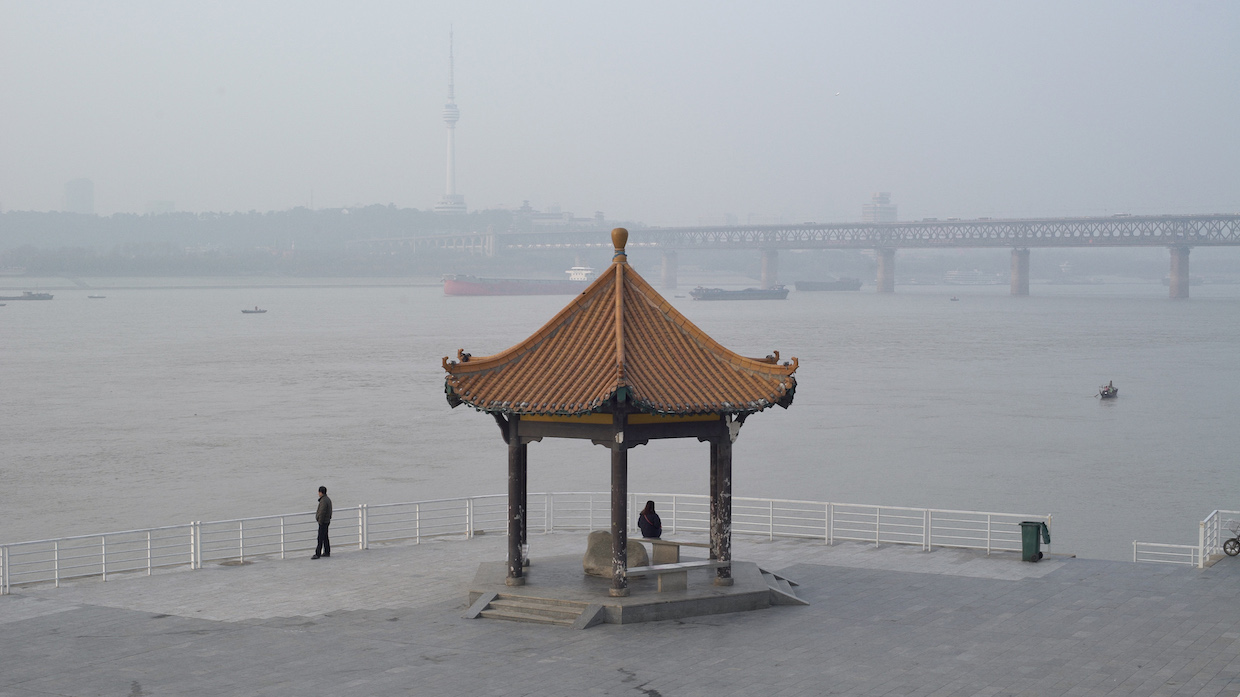 A River Runs, Turns, Erases, Replaces
Despite relocating to Chicago in 2015, Shengze Zhu has focused on her hometown of Wuhan throughout her career. Her first feature, Out of Focus (2014), is a creative portrait of the school-life of children from low-income families and the troubles they face. Her second, Another Year (2016), uses long takes to document the mealtimes of migrant worker families. Both are set in Wuhan but were made after she first left China in 2010 to study filmmaking in Columbia, Missouri. For Present.Perfect (2019), she widened her lens, creating a montage of live-streamers living across China entirely from desktop recordings of their broadcasts. Made in America, a sense of distance seems inherent to a project in which intimate connections with a cast of characters are mediated through the barrier of the screen. 
Her newest film, A River Runs, Turns, Erases, Replaces, again looks at Wuhan but was also produced at a remove. Created using footage recorded during repeated return visits that Zhu took to the city prior to the city-wide lockdown in January 2020, the film explores her shifting feelings towards a landscape that has experienced seismic changes in recent years, even prior to the coronavirus outbreak that brought unwanted and unwarranted international scrutiny. Subject to constant expansion, the city—the largest in central China, with a population of more than 20 million people—has become something of a stage for China to showcase the scale and speed with which it can redevelop and reconfigure urban spaces.
Reshaped as a result of the pandemic, A River Runs, Turns, Erases, Replaces visualizes alterations in the physical texture and psychological terrain of this ever-changing city, acting as both a record of this rapid transformation and a memorial for the unexpected crisis that unfolded in the city during the film's production. Opening with CCTV footage that depicts the end of the lockdown in Wuhan, A River progresses in reverse-chronological order, featuring a cycle of long-duration static shots of the city's river-side landscapes punctuated by intermittent on-screen letters penned by various authors to family members who passed during the pandemic. Zhu uses a consistent visual style to create a clear sense of the city and its river, adopting a murky, muted palette of sea blues and concrete grays, favoring footage filmed from afar in which human figures are dwarfed by the enormity of the river itself and construction projects underway along its banks. Despite the restrictions that this formal rigor imposes, the film seems to open outwards with the arrival of each new letter, revealing both a sense of shared loss from a traumatic time recent enough to still seem raw. and the filmmaker's own relationship with a place from which she has become geographically distant but to which she still remains emotionally proximate.
I talked to Zhu about her relationship to Wuhan and the river that runs through it, discussing how her film about the place and the people who live there changed over time in ways that she could not have initially anticipated.
Filmmaker: When did you start making this film and what inspired you to make it? How did it change over the period of production?
Zhu: I started shooting in summer 2016, and the final period of filming took place in fall 2019. That was the last time I visited Wuhan, my hometown. At first what drove me to this project was a feeling of alienation or estrangement. I felt like the city was becoming increasingly unrecognisable to me every time I went back home. Since 2014, Wuhan has had this official slogan, "Wuhan, Different Everyday!," which is very funny to me, because of course everything is different everyday. Since then, there has been continual construction and renovation projects. My original focus was on the city's redevelopment and how the residents are coping with such rapid transformation, and how small and alienated you may feel in relation to this unprecedented scale of development.
I had planned to finish shooting last year and had a shot list to go through. What happened in Wuhan in 2020 completely ruined this plan—firstly because I couldn't go back due to the travel restrictions, but also because I now felt that had to include what happened last year in this film. I couldn't avoid it. So, I started to make a new film, a different one. The first idea that appeared in my mind was to structure the film in reverse chronological order. At the beginning of the film is the lockdown, then after is footage filmed in 2019, and after that comes footage from 2016. This was really important to me, because I think what happened last year should be considered a period and not a moment. It was something unprecedented that has had a profound influence on so many things across the city, and on me and on people around the world. I wanted to start from this point and move backwards, in order to try to contemplate what occurred. By looking at what happened, I believe we can gain an understanding of what could have happened, or what could yet happen.
Filmmaker: I've watched quite a few films about the pandemic recently, and your film is very different to the other films I've seen on the subject. It's a more sensitive and subtle approach than most filmmakers would take.
Zhu: This film makes me nervous actually. I didn't know how I should share the feelings and emotions that I have about my city with others. These are intangible feelings; there are lots of things that I don't know how to convey. For many people, last January may have been the first time they ever heard about Wuhan, and it was in a very frightening and confusing context. I didn't know how, after this, people would look at the city or at my experience of it. I was definitely worried.
Filmmaker: What it was like making a film about your hometown when have been so far away from it? Was it difficult to make…